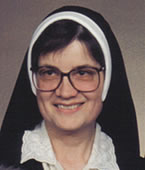 Dear Friend in Our Lord,

The Republic of Angola, in southwestern Africa, is a land devastated by twenty-seven years of civil war. In the process, thousands and thousands of children have been orphaned and abandoned. Through and with the generosity of many, the Sisters of Saint Dorothy have provided a number of these children with a loving home, food, medicine, a basic education, and skills to equip them for life. Project Forgotten Child, founded in 2001, is primarily dedicated to serving the needs of these young people.

Our efforts on behalf of the children stem from our vocation as Dorotheans. The goal of the Order is "to be fully available in the hands of God to evangelize through education, with a preference for youth and the poorest." To this end, we are active in many parts of the world.

There are, we know, many demands on your generosity in these troubled times. But if God moves you to help us in this noble work of feeding and educating future leaders, please take a few minutes to browse our Web site.

For a brief description of the Dorothean mission, click on the "About the Dorotheans" link on this site. Further information on the Project is available through the link titled "How the Funds are Used." If you then click on "Become a Sponsor," you will see the address to which your tax-exempt contribution may be sent.

May God Bless you!


Judith A. Costa, S.S.D.
Project Director