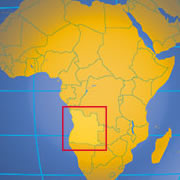 The Republic of Angola, in southwestern Africa, is a land devastated by twenty-seven years of civil war. In 2002, the parties to the latter stage of this conflict – the National Union for the Total Independence of Angola (UNITA) and the Angolan Government – signed a peace agreement, but the country was left in a pitiful state: roads and bridges destroyed, millions of refugees, and 15 million anti-personnel mines in the fields.
With a population of some 12 million, Angola has more land mines than people. Over 70,000 individuals, many of them children, have been mutilated by these explosive devices. Sown without a map, the mines prevent vast areas of land from being cultivated; this in turn creates a huge shortage of food.1
The ravages of war have left thousands of Angola's children orphaned and abandoned. Approximately 4% of the adult Angolan population has HIV/AIDS, and this health crisis has added to the number of orphans.2
The Sisters of Saint Dorothy entered Angola in 1934. Through and with the generosity of many, they have provided a number of these children with food, medicine, and a loving home.
Project Forgotten Child was founded in 2001. Since that time, donations from our North American contributors have benefited several institutions run by the Angolan Province of the Sisters of Saint Dorothy. These include orphanages in Benguela and Capelongo; secondary schools in Namibe, Lubango, and Benguela; and a series of health stations, discussed below.
Thanks to the efforts and sacrifices of the Sisters, the orphans receive a basic education and skills to equip them for life. With the help of their North American benefactors, the younger children are progressing in their schooling, and two of the older ones – Adália Josefa and Carolina Zamba – are continuing their higher education.
Funding from our donors has been used for several other purposes. Modest classroom furniture has been delivered, and teaching materials have been upgraded. Fields have been purchased for the sowing of vegetables. Two farm vehicles were acquired for use in this endeavor, and a Jesuit brother from a nearby school has shared his agricultural skills with the young workers.
Those who live near the Dorothean communities turn to the Sisters, on a daily basis, for help with a variety of human needs. Aided by Project Forgotten Child, the Sisters regularly offer food to the poor families who have no other source of assistance.
Health care in Angola stands in a primitive state. Medical treatment is seldom available to residents of the countryside, the youngest of whom are particularly vulnerable to disease. In response to these conditions, the Sisters of Saint Dorothy have established several small clinics and health centers. The locals flock daily to these Dorothean institutions in locations such as Kamunhandi, Cuamato-Cunene, and Lubango.
Because of frequent interruptions in electric power, an emergency generator was needed for the health center run by the Dorotheans in Cuamato-Cunene; this vital piece of equipment was bought with contributions from our North American parishioners.
The spiritual needs of the Angolans are often as great as their material needs. In this light, Project Forgotten Child has sponsored two candidates for holy orders. With your help, João Nunes Karique was able to pursue his education and has now made his first vows with the Missionaries of Our Lady of La Salette. Thanks to your assistance, Avelino Firmino was able to continue his studies; he has recently been ordained to the Diaconate. These future candidates for the priesthood now minister to the poorest of the poor.
The range of activities sponsored by Project Forgotten Child is represented in the Photo Galleries on the present Web site. We are deeply grateful for your support, and we ask your prayers for our work of service to the neediest.
---
Notes
Presentation adapted from the Seton Institute News (Winter 2003). For further information on the Republic of Angola, see the list of Helpful Links on the present Web site.
"HIV/AIDS Adult Prevalence Rate in Angola (2003 estimate): 3.9%." Central Intelligence Agency World Factbook.